[Part I] 15 Significant Metrics, Their Importance in Moodle Analytics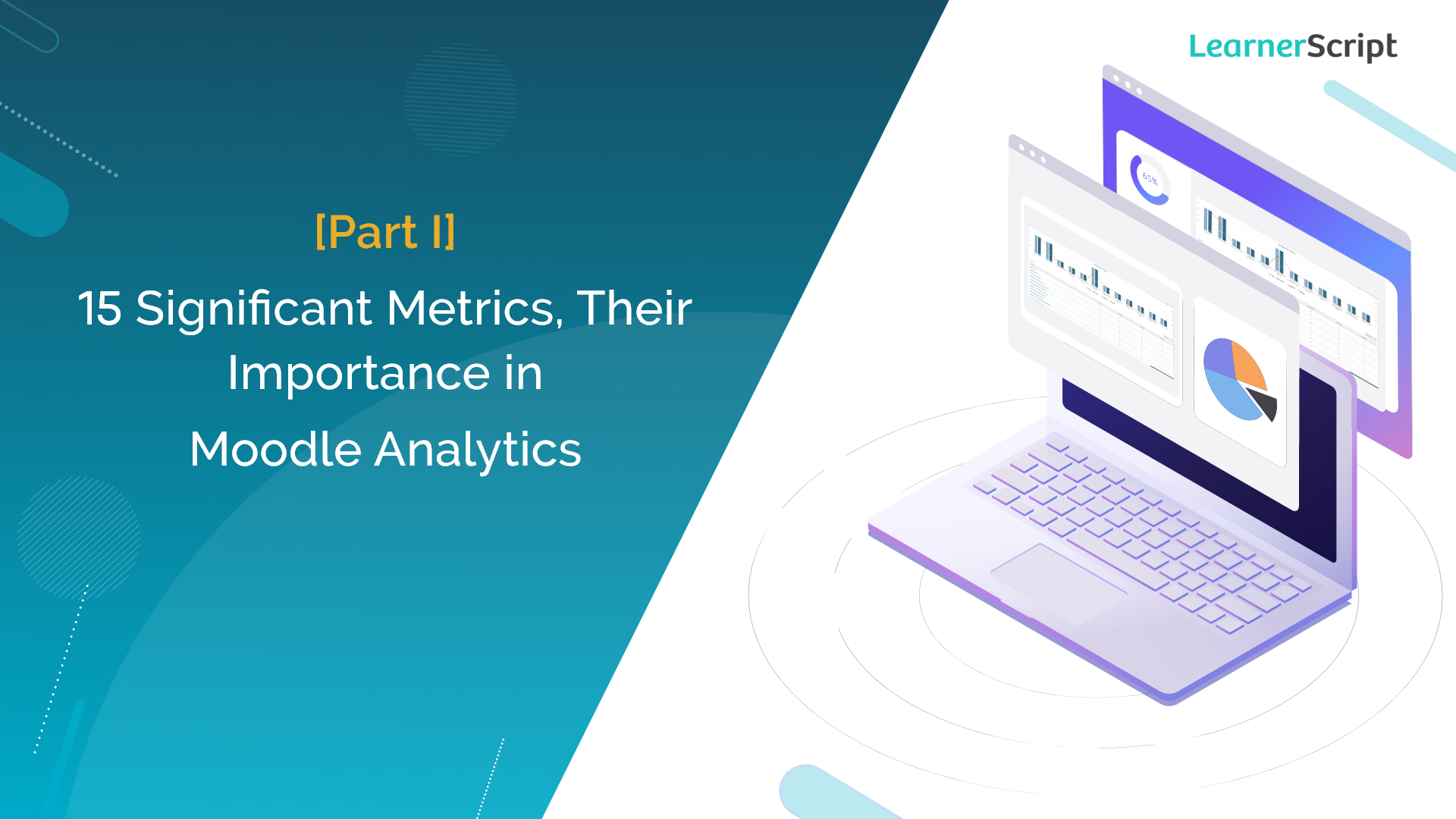 Moodle analytics comprises a group of common Key Performance Indicators (KPIs) irrespective of an organization's sector and size. These metrics seem common for every Moodle LMS user. Be it an individual or corporate.
In this post, we list down 15 important learning metrics and their importance in Moodle analytics. For that matter, for any LMS their understanding and importance matters.
If you get to know these metrics, you get the essence of the learning analytics. And it makes your job, as a learning and development head, easy to make informed decisions.
Let's move on to the subject.
#1. Log in rate
How frequently is my user logging in?
That's the question you need to pose for yourself. Login rate helps you see how often your student/s is logging into the LMS. In the sense, you look at the Moodle report for user frequency in a month, in a year, or a custom time period.
A timeline filter will do your tedious job easier in this aspect.
Yea, that helps to compare the student's previous login rates. The takeaways from this metric are, in my opinion, these:
To identify the dropping out students
To examine the courseware
Hence, you can take measures to improve the engagement levels with interesting courseware. And maintain better student retention rates.
#2. Enrolment/Sign up rate
How well is my latest course/s doing?
Enrolment rate over a time period reveals how well the potential learners turning out to be the actual students. One or two of these reasons given below contribute to a high sign up rate for your courses;
Focusing on the 'right audience' through ad campaigns
Serving user-friendly courseware
Providing flexible fee payment options
And if you're getting the low sign up rate means the opposite of the above reasons happening. Sometimes strict eligibility criteria cause a drop in the course enrolments.
And what's more? Based on this eLearning metric, you get the LMS reports such as Top Courses, Trending Courses, etc. So you need a large number of enrolments? Start creating better eLearning courses.
#3. Course status 
What is my learners' learning/training status?
Usually, if you use customized (Moodle) LMS, you will have three types of course status Enrolled, In-progress, and Completed. So, with a course status metrics, you will come to know the progress of learning.
Some of your learners just enroll in a course. Others drop off in midway, but still, some others successfully wind up the course they started.
If you have a good learning analytics tool, then it visually showcases different course status in a combination graph for all your learners. Plus, you can see the graph for an individual learner.
Based on the insights drawn from this metric, you will come to know what measures to take next.
#4. Course completion rate
Are my learners finishing off courses or leaving away midway? 
Many of your learners may start with a "happy beginning." But for some reason, they couldn't carry that enthusiasm forward till the end. With the course completion rate, you can compare the completions against the enrolments.
So this learning metric provides ample space for you to improve your eLearning courseware. Plus, it helps you think of the insights you get from and figure out a solution for these:
Why a learner (or a group of learners) have dropped off in the midway?
Why other learners (or a group of learners) successfully completed their course?
What's the motivation levels for each group?
What's the best possible way to motivate those students who're slacking?
How far are my course, teachers, and training methods interesting?
And sundry.
For poor course completion rates, the students are to be blamed but only in part. The other part you have to own it!
In fact, the eLearning metrics such as this offer all stakeholders involved in L&D a chance to "self-examine" of what they are doing. And how far they are creating an impact through their roles.
#5. Average time-spent rate on the course (or Train up rate)
How much average time do my learners spend on their course (s)?
The average time-spent rate helps you know which of your courses taking how much time to wind up. Some courses engage learners and are easy to finish off, but others monotonous and time-consuming. Hence, your folks feel difficulty in completing such courses within the training period.
So you get insights such as:
Courses that are engaging and easy to complete
Courses that are difficult, and hence, take a long time
Clues to improvise monotonous contents of a hard course
Scheduling a feasible training timetable
By the way, the KPIs such as 'Course completion rate' gives some clues about the average time-spent rate of a course.
#6. Course rating
How much is my learner satisfied with a training course?
At the end of the day, the student retention totally depends on how satisfied she is with the courses you offer. Course ratings will help you gauge their satisfaction levels. The rating is given by learners on a scale of five from one to five.
The average rating score of all the learners for a course is visible at that course.
This learning metric helps in three (or more) ways:
Provides a course overview to potential learners
Alerts the instructional designers/teacher/L&D manager if the rating is low
Helps, if the rating is low, to revamp the course or change the teaching/training methodology
In some cases, you may want your 'Video/Audio rating' in addition to a course rating. This happens especially when you employ a streaming application for your LMS. That's a great way to help improve your media content, isn't it?
#7. Learner/Trainer feedback rate
What's your learner's/trainer's say on their learning/training respectively?
Feedback matters. Be it of trainers or of learners from time to time. Without this necessary metric, everything about your Learning and Development (L&D) looks good from the outside.
But the feedback by your trainers about their learners and the training content and the feedback from your learners about their training speak out what your L&D actually is inside.
So what's this metric do to you? Yea, it helps you out to improve your training. Be it a content point of view or a delivery point of view. So much so, you won't miss meeting your L&D goals and as well as expected ROI through your L&D.