Instant communication
Communicate with your peers / students with instant messaging, send alerts with instant notifications and email a particular report to a particular role.

User profile
Get a summary of all your learning activities like enrolled, in-progress, completed courses and so on. Drill-down components to get further insights, and also make comparative analysis of learners to know about their learning experiences.

Timeline
Analyze your Moodle LMS reports over a time period with Timeline facility which summarizes data from your Moodle platform for a week, month, year or custom date range.
Course profile
Get a summary of all your courses- related activities such as top trending courses, course enrollments, course status and so on. you can make a comparative analysis of courses to know wether the courses are easy, tough or anything between.

Download formats
Download your report as a JPG, JPEG or SVG and print it. Or export the same in formats such as PDF, XLS, ODS and CSV depending on your requirement.

Custom reporting needs
You can add a new widget, tile or dashboard depending on your reporting needs.

Switch your roles
You can switch between the roles if you are enrolled to multiple roles. You'll see only that role-related dashboards to which you login.

Graphs, charts & tables
Analyze and visualize your data from your Moodle platform in the forms of various graphs, charts and tables for actionable insights.

Canned reports
Learnerscript comes with readily available 95 plus canned reports. You can make the most out of them unless you need a completely new Moodle custom report.
Customise enhanced reporting to meet your requirements
LearnerScript gives more flexibility to you in terms of customisation which helps you meet your unique reporting needs. You can customise the canned reports, create new reports and dashboards, add graphs and charts to visualise the reports, set report permissions and export reports in various available formats.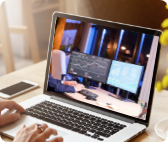 Role-wise dashboards
LearnerScript provides multiple dashboards for admin and role-wise dashboards for others. You can add a new dashboard to your admin or another role when requires.
Schedule reports
Automate scheduling your Moodle reports daily, weekly or monthly and send them directly to the inbox of your learners or a file to their system.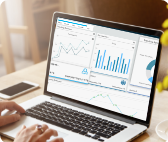 Custom report
Design Moodle reports from a single page itself, even your custom Moodle reports with or without SQL using our enhanced reporting.