When your Moodle report becomes Smart Widget, your engagement on Moodle increases by 3x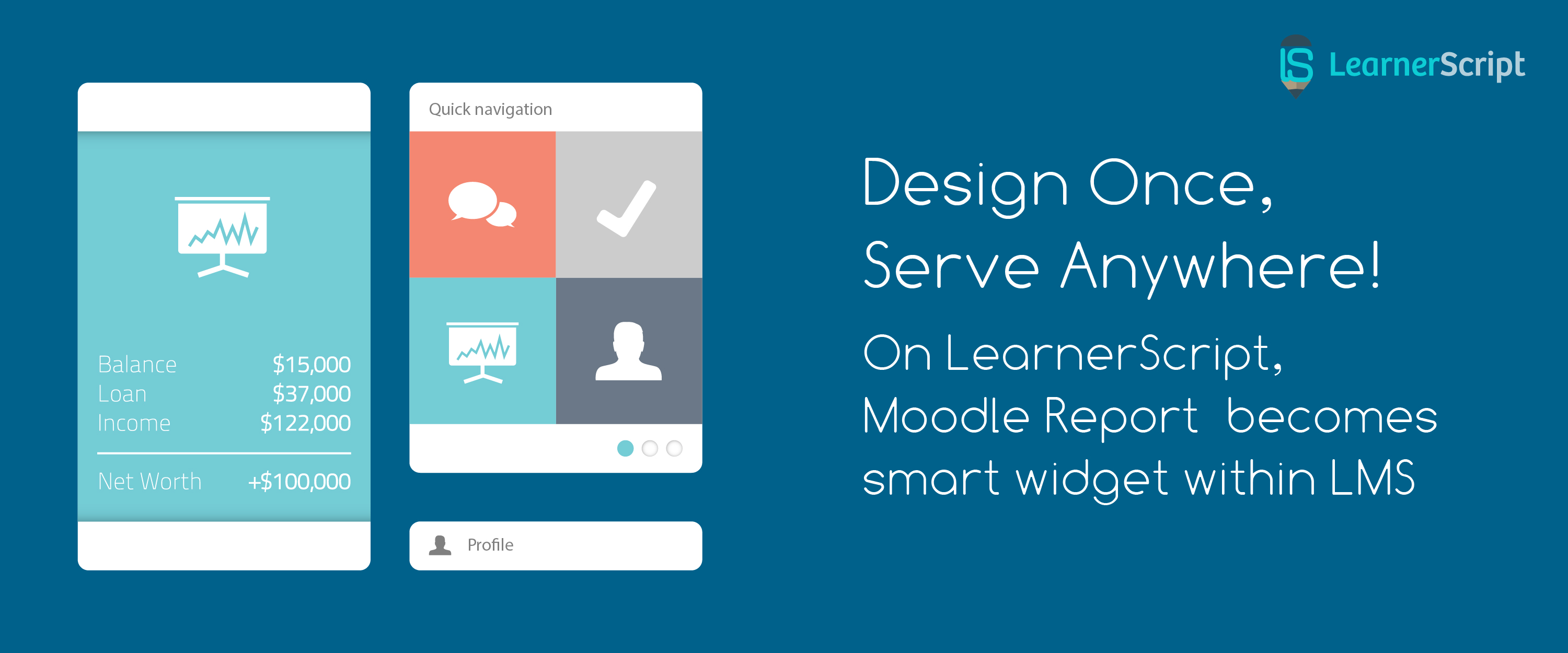 With the advancement of technology, much water has flown under the bridge in designing arena for from cities to implements to applications – even software applications. In fact, in these days, we see smart devices, phones, applications, etc. One such application on LearnerScript is creating a Moodle report as a smart widget.
Smart Widget – What and Why
Before you come to know what a smart widget is, let's see the definition of a widget. According to Merriam-Webster dictionary:
A widget is a small software application that is designed to provide a specific piece of information or specific function on demand.
Notwithstanding, you might ask what purpose a widget in Moodle analytics serves you. Well, it does serve you well – that, too, in a smart way. When you want to access Moodle reports, probably you log in to your Moodle LMS and look for them at a place where you've stored. That's a conventional way of viewing Moodle analytics, isn't that?
However, on LearnerScript, a Moodle report is designed to become a widget. That too, a smart widget. Designing Moodle report as a widget has a far-reaching advantage. It means that you can enable a Moodle report anywhere within the LMS, once you create it. If you want that Moodle report on your dashboard, you can have it. Or you want to see the report on course activities page, still you can enable it so that you can access it. Right there and right then!
That's simple and convenient.
Like Chameleon, Like Smart Widget
You know that Chameleon changes its colors, don't you? The tiny creature inspires us (maybe it did many others, too) to create a smart widget. In that same fashion, when you have a Moodle report as widget, depending upon the page you are in, it visualizes that particular data from Moodle. That is, when you are in a course activities page, a report widget automatically showcases data pertinent to that page. And when you are in a different page, it will exclusively display data related to the page. Hence, when you design a Moodle report, it automatically turns out to be a smart widget.

Besides, you can perform all the actions on a widget just as you do on a report, like –
Edit
Delete
Design
Schedule & many more
In conclusion, you can create a Moodle report and use it as a smart widget anywhere across your Moodle LMS. And guess what? This kind of interactive and flexible report-as-smart-widget increases your engagement on Moodle by threefold (That's what the User Experience stats for 2019 say).