Welcome Elearning Experts to LearnerScript's Partnership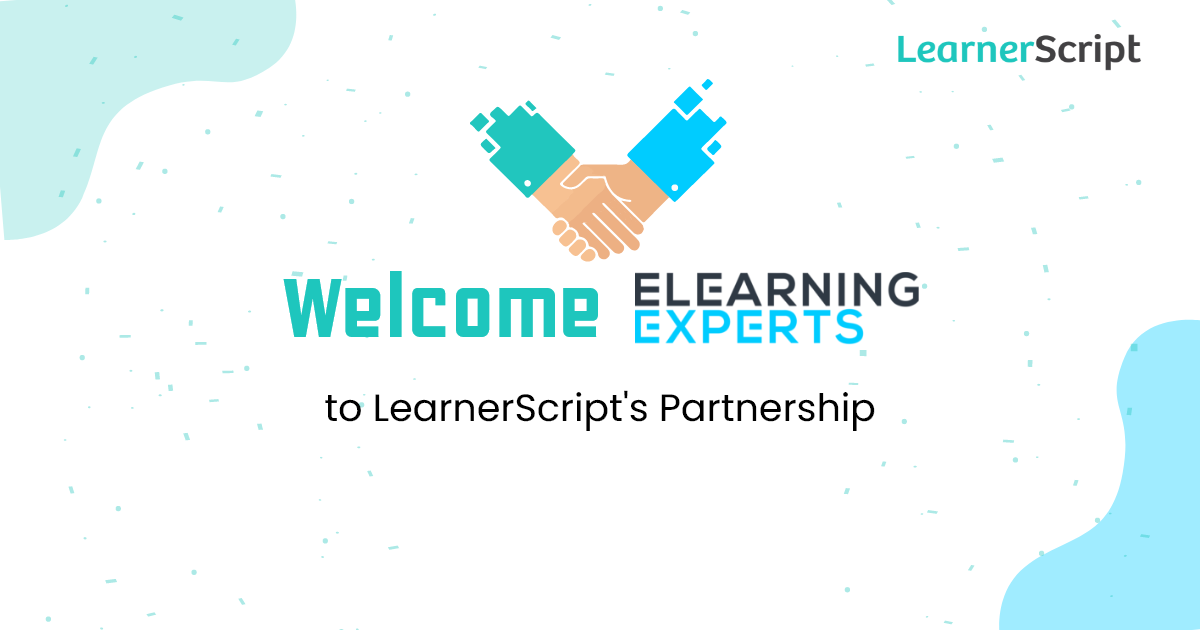 LearnerScript is delighted to announce our latest news: We're now Partners with Elearning Experts, located in the USA. Being partners with this Moodle Certified Partner from Virginia adds another feather to our analytic hat, and enhances our tool's capability to help organizations and their learners.
We want our tool, LearnerScript to speak for itself.  Its performance, design, and efficiency in improving an organizations' Learning and Development speak for the tool, better than any words we could configure.  We want you to witness it. That's the team's goal overall, to give you firsthand experience (AKA super success) with our fantastic tool and our equally fantastic team & partners.
This new and monumental partnership with Elearning Experts is the third such partnership for LearnerScript in just 20 months. And with more exciting partnerships in the pipeline, LearnerScript is anticipating overwhelmingly comprehensive client services in the near future. What an exciting beginning for a newbie (product-wise) in the Moodle analytics arena!
Now, let's dive a little deeper into the professional and experiential background of our new and expert partner team, Elearning Experts.
About Elearning Experts
If you pay attention you will notice an immediately striking quality which seems to permeate within this team – collaboration. Collaboration with and for the client. Elearning Experts has set itself apart in the Elearning industry as a team that genuinely cares about client success and achievement of end goals. They collaborate, they coordinate and they cooperate to create the best packages, offerings, and services for each individual client. As they say, birds of a feather flock together! In this case, the open-source technologies which lead this team to connect with others – Moodle, Course Merchant, Blindside Networks, Arlo – have led them to an exciting partnership with us, the team at LearnerScript.
The 'depth and breadth' of their expertise with the core code of the Moodle platform has allowed them to successfully maintain thousands of Moodle sites for a vast variety of clients and client needs. The Elearning Experts team is also well-versed in doing integrations, adding plugins, and third-party add-ons, all with the purpose of helping clients tailor Moodle offerings to their specific needs.
Founded in 2012 in historic Yorktown, Virginia, Elearning Experts has over '150 years of combined experience' in providing online learning solutions.  They know the ropes and are literal experts at finding the best solution and fit to meet your learning and development goals. They offer a host of highly valuable services to organizations seeking open-source tech solutions:
Moodle LMS
Hosting & Support
Moodle Workplace
Branded Mobile App
Theme Customization
Training both On-site or Online
Custom Content Services
The Elearning Experts team is so exceptionally talented that their offerings and services far exceed the few listed above. Visit their site for more information on specific services, or to ask a question (we have it first hand, they love questions, so ask away!).
LearnerScript, Made for Moodle
If you've landed here for the first time and want to know more about LearnerScript, keep reading for a brief overview of LearnerScript's inherent awesomeness, and how that awesomeness can benefit you.
LearnerScript is an advanced Moodle analytics tool made for Moodle and IOMAD which is a platform derived from Moodle. What's the best thing about the LearnerScript analytics tool? It is ready-to-use upon installation. From the moment you get this Moodle plugin, you can start using it. It's simple, user-friendly, and intuitively designed. No-fuss, no muss. Just results. Because that's how analytics should be.
LearnerScript features (what you've been waiting for, we know):
Role-wise multiple dashboards
Report design
85 plus pre-configured reports
Ability to create new dashboards
Custom Scheduling and Permissions
And so much more!
Check out the LearnerScript website for more features and all of the pertinent deep-dive deets that you're undoubtedly craving. Or, want a more personal and guided experience? Schedule a demo today!