Limited Offer: Get $2450 Moodle Analytics Tool for Free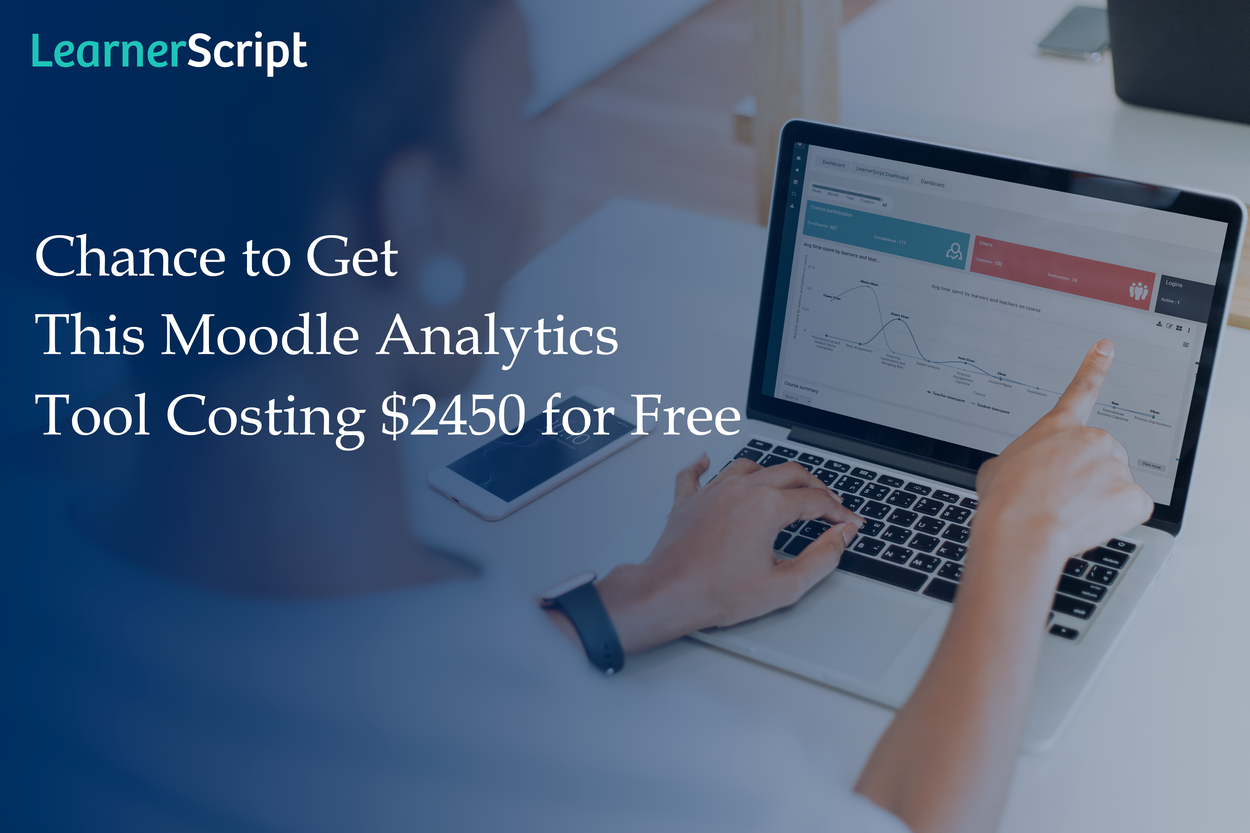 Here is a chance for you to get this Moodle learning analytics tool which costs $2450 for free for a year. No kidding! And guess what? You can be one of those five to whom we would like to giveaway this Moodle plugin, LearnerScript, for a year.
You may be wondering thinking why on earth these folks like to give a tool that costs about $2500.
Simple. We would like to assess what you (an end-user of Moodle) actually want from a Moodle learning analytics tool and to improve it accordingly in our later versions. Hence, your feedback matters the most to us!
Thus, based on the feedback of people like you, the changes will be included in the subsequent versions of LearnerScript.
The Offer Details
Here are some important details about the offer.
The offer is for a limited period
FIVE organizations will be selected from the top feedback responses from the number of feedbacks we get
The selected five can freely use LearnerScript so that we will engage with them for a year to draw constructive inputs about the tool
If you need more information for clarity, please write to us now.
How to Get the Free Tool
You need the following things to do to get the cost-free offer of LearnerScript.
Visit LearnerScript's demo site
Figure out anything which is missing in the tool, which is badly needed by your users
Fill up the feedback form and submit it to us
You will get the tool's license to freely use for a year if we find you in the top five feedbacks
If you want of information about LearnerScript, kindly go through the recorded webinars available on our YouTube channel.
And if you are new to this Moodle analytics tool, here is a brief about it. LearnerScript is an advanced analytics and reporting tool for the Moodle platform, designed and developed by eAbyas Info Solutions – a Moodle Partner.
It's been a year since LearnerScript launched into the market. And we have successfully had two versions of this tool so far. Thanks to our clients and the exclusive partner for Brazil, Sofia.
To know more, visit our LearnerScript site or contact us for a personal demo. We are glad to do that.
At the end of the day, we are committed to making the learning on Moodle LMS meaningful and enriching with needful reports from a tool like LearnerScript.