adaptiVLE, Our Exclusive Partner in UK!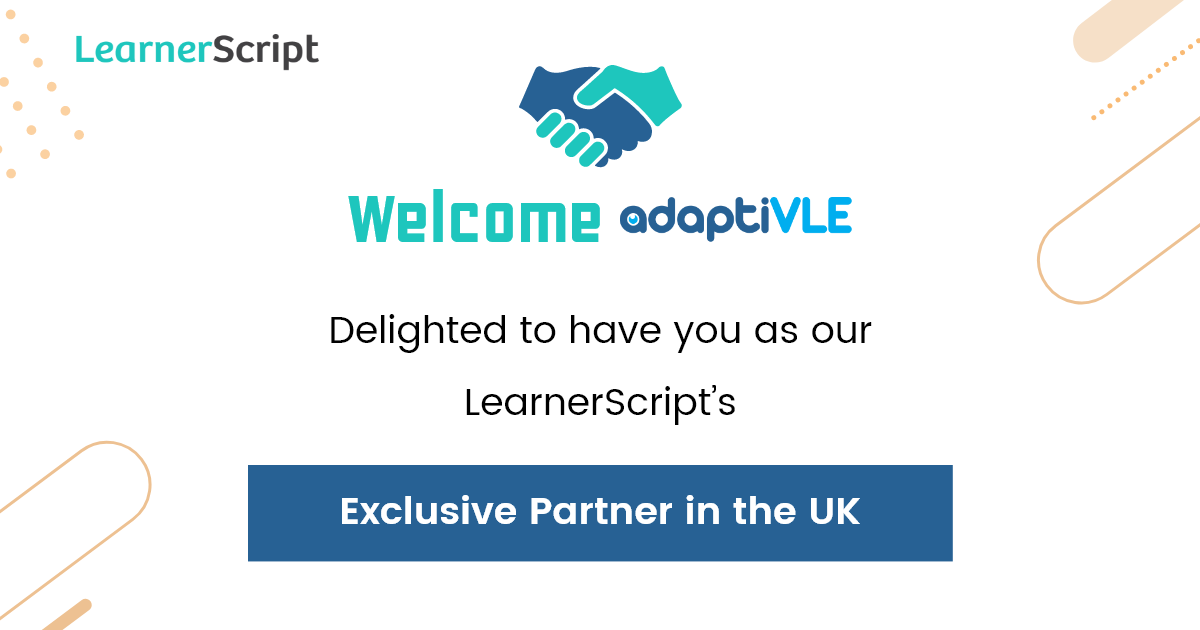 We are extremely delighted to announce this news and welcome LearnerScript's exclusive partner in the United Kingdom, adaptiVLE. This exclusive partnership is yet another milestone in our journey. Another feather in LearnerScript's cap!
The acceptance of this Moodle analytics tool across the continents proves its usefulness to the Moodle fraternity. The clients and partners of LearnerScript testify to that point. And that's what and how we intended to serve the Moodle community across the globe.
Earlier, in the second quarter of the last year, Sofia the Edu Tech Company from Brasilia made an exclusive partnership with LearnerScript for Brazil. Now, we've made such an exclusive partnership for the UK, with adaptiVLE.
Brief About adaptiVLE
Have you ever come across a monotonous online training material? You might have, for sure, whether you are a learner or the admin of a learning platform. But no worries.
Meet the online training experts, adaptiVLE, who not only saves your learners from shedding 'tears' due to boring online stuff and makes life 'easier' for your admin. Overall, adaptiVLE is here to give you an engaging online learning experience.  What's more, you need?
Our exclusive partner is based out of North Yorkshire and provides eLearning services such as Training Development, Design & Creative, Platform Development, Virtual Experience Platform, Content Development, Quick Course and Managed Service.
Check out adaptiVLE website and if you need online training experts from the UK, visit them today!
What LearnerScript Offers
To those who have no idea about LearnerScript, it's a Moodle analytics tool. With the help of this tool, create custom reports or use the existing canned reports. By any standards, LearnerScript puts itself as competitive and cost-effective for Moodle LMS users.
The tool is available in two versions:
Plain Moodle version
IOMAD version
Need more information about this advanced Moodle analytics tool? Visit LearnerScript's website or drop a message for a personal demonstration.
Once again we heartily welcome our new exclusive partner, adaptiVLE!