4 Moodle Report Formats Useful for Report Exporting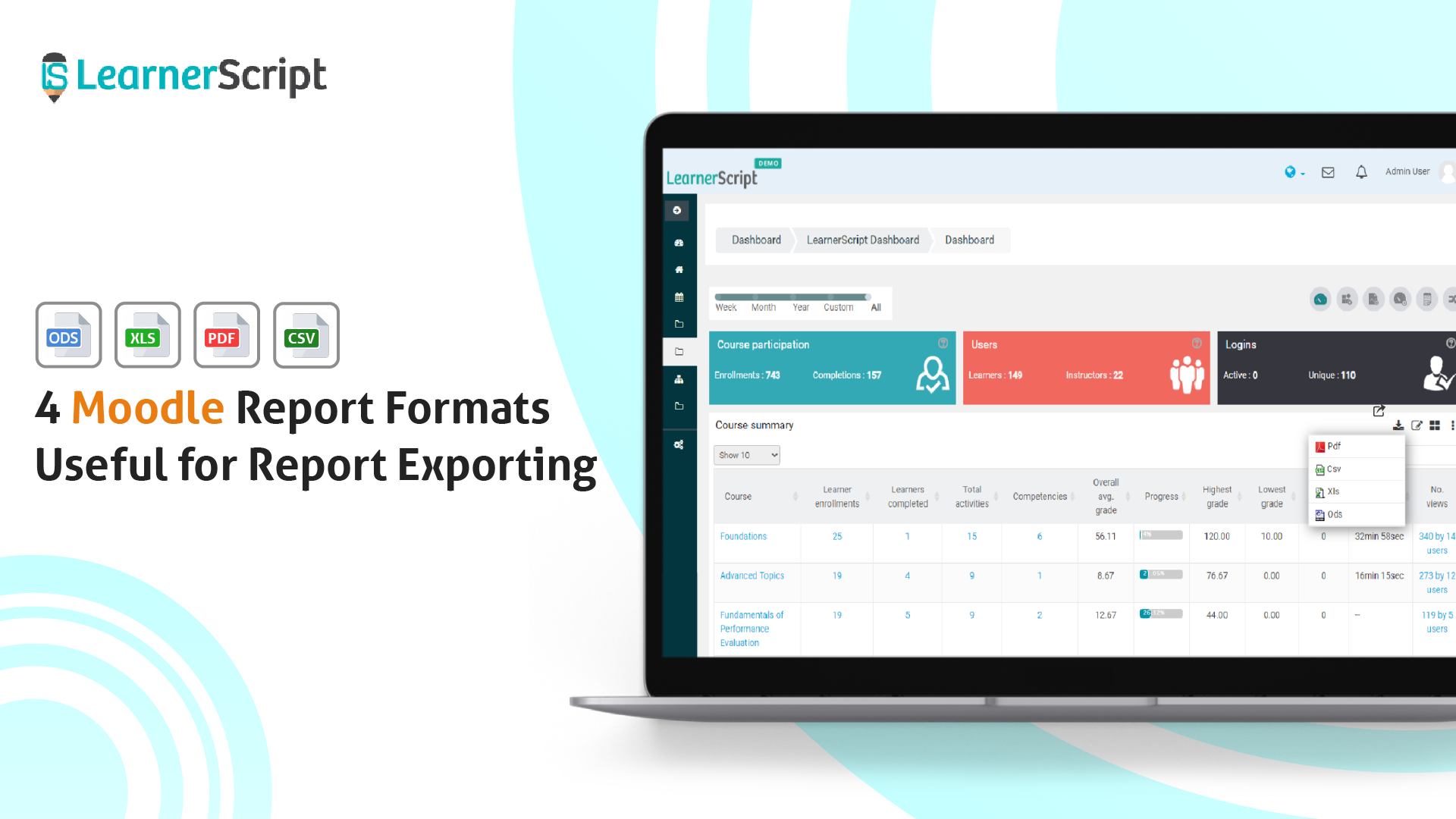 Report formats in Moodle analytics play their fair share of a role. LearnerScript is here to talk about them and let you know about them in your Moodle reporting.
How do you want it to be when you create a custom Moodle report? I mean the download/export format of your report? Here in this blog post, we will discuss four Moodle report formats that are useful for report exporting. And, all these four report exporting formats include in LearnerScript for the convenience of Moodle educators.
Let's move to the subject quickly!
#PDF
The acronym 'PDF' means 'Portable Document File' which is commonly known as PDF. Though PDF is an age-old document format, but why use it even now for a Moodle report format? There are a good number of reasons for using it.
Here are they:
PDF is a 'Ready-Only' format. It means your recipients can't edit the report.
PDF doesn't need a file viewer for it. That means your students/teachers can view it across any device, without the need for Adobe Acrobat.
PDFs offer a high level of security, compressibility, and so on. Password-protect your Moodle reports.
So, that's the thing! As a result of the advantages mentioned above, PDF is still a popular choice for a report format.
#XLS
There are some drawbacks on the side of the PDF. Like, the size of PDF availability only in A3 or A4. You have to zoom in to get a particular detail. However, there's no issue with the spreadsheets like Excel.
XLS format helps you keep your data presentation in tabular or other visual presentations. Like PDF, your folks will not face any issues opening it, as most of the devices will have Office Suite by default. But the drawback with the XLS format by its nature is data editing at the end-user.
For some of the Moodle reports such as Course Summary, Learners' Summary, SCORMS, Assignments, etc., the format of the spreadsheets suit well. That's why there will be no distortion of the image (graph, chart, or table) when you zoom in on a Moodle report.
But whether to go for XLS format or other, it depends on your Moodle reporting.
#ODS
ODS stands for OpenDocument Spreadsheet (ODS), which is from the Apache OpenOffice suite. Unlike Microsoft Office, this suite is free and open-source. One noteworthy thing here is: you can open ODS files in Excel, but chances are that some of your data may get lost! (What about the vice-versa situation, opening XLS files in ODS? God only knows.)
If you have your Moodle reports in ODS format, primarily for the convenience of those who use OpenOffice, there will be no issues. As this format is cross-platform (= any OS) functional. Be it LibreOffice, Google Sheets, or Microsoft Excel.
To make your Moodle reports (those in ODS format) available for a variety of audiences, convert your Moodle report in ODS to any other required format.
If you have no issues storing them with third parties like Google Drive, then from there you can convert your Moodle reporting to a required (spreadsheet) format.
#CSV
Comma Separated Values is abbreviated as CSVand is developed by IBM. This file format comes in handy if you want to transfer data in a fast and furious way. In other words, CSV is primarily purposed to manage data transfers among the applications with much ease.
In our context, CSV file format offers convenience in handling Moodle site-wide reports (or, other such Moodle reports). Because they are mostly in the tabular structure.
In case you want to convert your Moodle reports from CSV format to others, then there will be no issue. Since all spreadsheets support it.
Finally, what format you want your Moodle report to be in purely depends on your requirement. You will only know which format comes in handy for a purpose. So we included all these four formats in LearnerScript. At any time, customize a Moodle report format as per your need of the hour.
Get to know more at the demo site of LearnerScript. Or ask us for a personal demo.