Why you need scheduling Moodle report to improve accessibility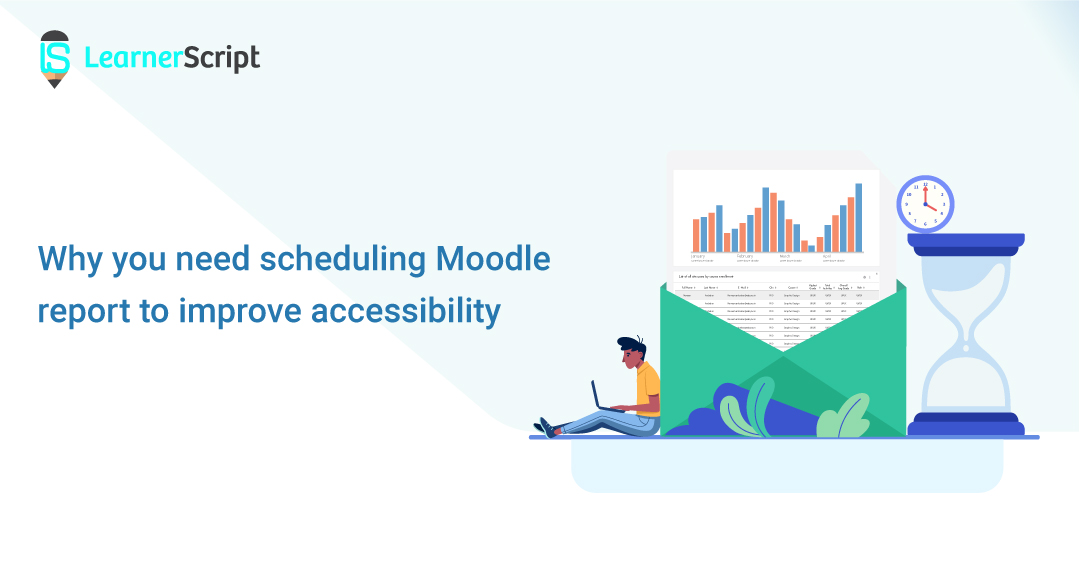 At the outset, that's the question we would like to answer on your behalf. And that's what you want anyone to let you know, right? Consider this illustration to understand the concept just the way we want you to. Suppose you are a Moodle admin. Let's assume that you have to send a bunch of reports of students to your principal or manager. What do you do then?
You log in, don't you?
But it is what we have summed up to call it a monotonous task for these reasons:
Login every time to send each report
Imagine how wearisome for the admins as well as for the principal/manager if the reports are in tens in the number
Download tons of reports, if you are a University or Medium-Sized Organization
Gets worse if you suppose send your Moodle reports daily
You can do away with all that tedious job, using LearnerScript!
The Schedule Moodle Reports feature on LearnerScript helps you improve the accessibility. When you schedule a Moodle report – daily, weekly or monthly – it automatically generates the report and delivery to the person scheduled on the LearnerScript. Here too, they no need to access the reports by logging in, but they can see those reports straight from their inbox or in the system.
Nevertheless, you might say why scheduling a Moodle report when you can send the LMS reports via emails. Well, even in that context, all that four points come into the picture.
When you schedule a report, you schedule it including how it supposed to be delivered – via email or directly into the system. That's all.
Thus, LearnerScript the Moodle analytics plugin saves you from a lot of redundant work and increases the flexibility of accessing the Moodle reports.