LearnerScript 2.0 Steps up Performance for Decisive Analytics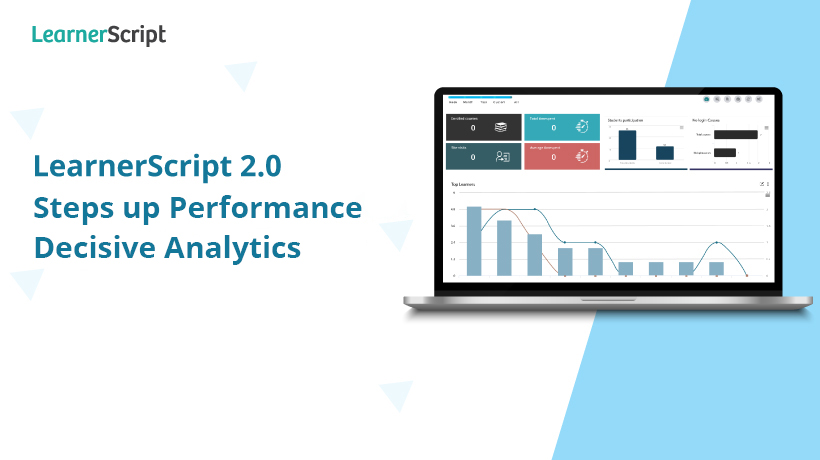 Every once in a while, you see a product in the market either boosting or boasting about its performance improvement. Not only that, you see athletes putting up their best performance in athletic events. So what counts here – whether it's a product or person – is performance! LearnerScript, the Moodle learning analytics tool, has no exception. And it changed the way performance manifold with its latest version – LearnerScript 2.0.
What sets LearnerScript 2.0 apart from its first version is its exceptional performance (in addition to many other significant changes). Read through LearnerScript 2.0 release notes and the corresponding blog to get an idea of the changes seen in the second version.
So what exactly does it mean to be 'the performance boost' from the latest version?
The second version steps up the performance of this learning analytics tool in two ways:
Reports – there have been changes at the backend for the faster fetching of the learning analytics data when you make a query. In layman words, you have a straight way, and hence quick, to process your learners' requests. You will notice this difference when there are tens of hundreds of users browsing into the system simultaneously.
Plus, tiles and reports like – Top Learners, Trending Courses, Graded activity, etc., in the previous version – have been moved to the course dashboard to enhance the performance. It definitely removes a lot of burden on the server (and on your part for waiting those many seconds!).
The interesting thing here is the performance of the tool improved multiple times despite the addition of new reports such as Treemap, Forum Activity, SCORM Track, etc., to mention a few.
Dashboards – A few bugs from the first version, pertinent to the performance of dashboards, have been fixed to drastically enhance the tool's performance dashboards-wise. Besides, improvements on the course dashboard of LearnerScript have powered up the tool's performance. Here, you won't see the default course reports loading when you open the course dashboard, but a Course Mandatory Filter – a new addition to LearnerScript 2.0 – helps you get course-specific dashboard and reports.
You see these minor tweaks to the first version of LearnerScript, which has significantly enhanced its overall performance of the tool. And that's what you see in the tool's second version – LearnerScript 2.0.
To know more about the latest version of LearnerScript, click on the Release Notes link or the blog. Plus, you can have a look at our demo site.