The Advantage of Automatic Configuration on LearnerScript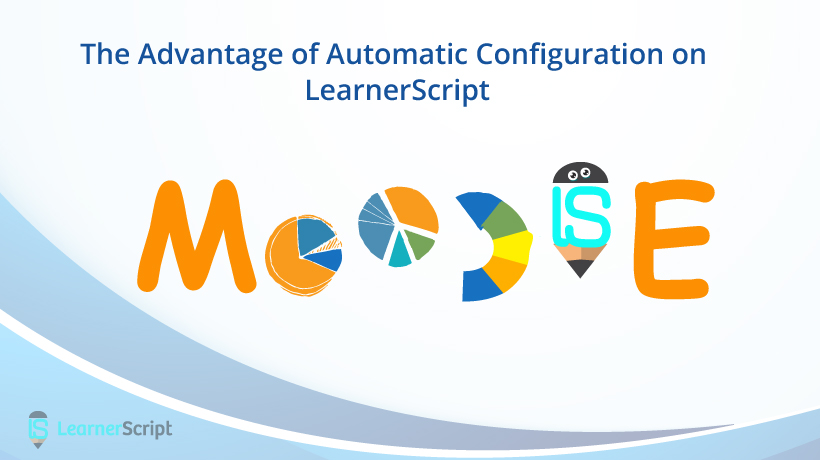 Typically, when you get a learning analytics tool, this is what you do: You install it and start off configuring the tool to suit your requirements. That's the case with almost every tool. Because of the plugin's configuration time, you cannot use the tool right away. It takes some time, for the admins and other users, to put the analytics tool into use due to the front-end work and then adding a new report to your Moodle dashboard.
Configuring Moodle reports and dashboards seem must, don't they?!
Nevertheless, there is a way out to get over the issue, using a cutting-edge tool called LearnerScript. The tool is an advanced analytics and reporting plugin for Moodle platform. As of now, LearnerScript is exclusive for the largest Open Source LMS.
Automatic Configurable Moodle Reports Using LearnerScript
The team at LearnerScript aimed to eliminate that extra work put in to configure the plugin. When you have LearnerScript, you have these advantages:
Automatic reports and dashboards configuration. The system will take care of all that work, for which, otherwise, you have to spare some time to make it ready.
Because of the feature called 'automatic configurable dashboards and reports,' you can start employing the plugin straight away. For the purpose, LearnerScript offers 80 plus Canned Reports.
If you have multiple instances and want to have one report from one instance to another, you can import the report using LearnerScript. Thus, make the reports portable!
Finally, you save on time and as well as from the burden on your pocket.
In case you do not know this thing about LearnerScript, here it is for you: the automatic configuring Moodle plugin provides you four reporting dashboards for the Admin, one for each Teacher and Student.
Thus, LearnerScript is a cost-effective, download, and ready-to-use tool. To know more, contact us now.