LearnerScript is now compatible with IOMAD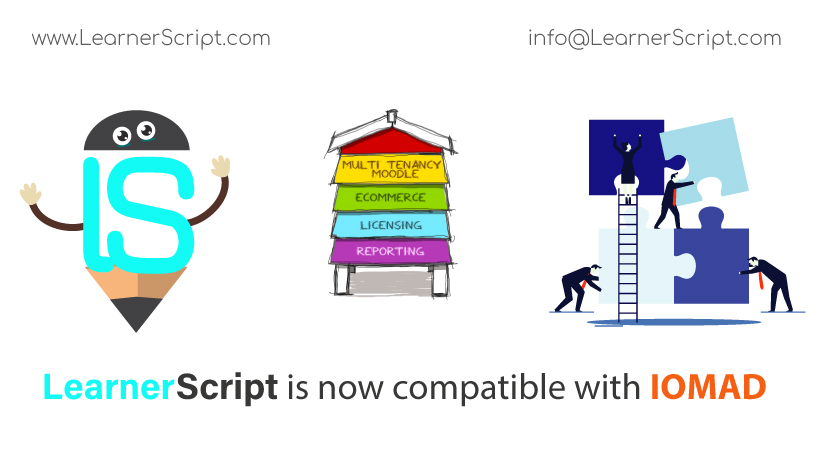 LearnerScript, the Moodle advanced analytics and reporting plugin, is now compatible with IOMAD, a multi-tenacity solution for Moodle Learning Management System (LMS). With that development, the plugin equips IOMAD with the advanced analytics and reporting solution. This solution as a whole is primarily helpful for across the spectrum of businesses, corporates, and workplaces.
IOMAD. What's in the name?
Iomad (pronounced as iməd) is a Gaelic adjective synonymous with the English words such as numerous, multiple, various, and so on. This language is mainly spoken in the picturesque Highlands of Scotland. The word symbolically represents the 'multi-layered' structure of businesses and corporates. Hence, the name for this solution!
Similar to its source, Moodle, Iomad is also an open-source solution developed by eLearn Design company from Scotland. However, there is a 'stuff' you have to pay for, which you can check out visiting on their site.
This Iomad solution for corporate Moodle users offers the following features:
Multi-tenancy – that is, if your business has multiple organizations under it, you can employ Iomad for all their learning and development (L&D) needs.
Licensing – it enables the admin to create a license for a company to access courses.
E-commerce where you can easily sell and promote courses
Reporting – you get reports such as Course and User completion, SCORM Overview, License Overview, and so on.
For advanced analytics and reporting needs, you can choose LearnerScript. For more information, visit Iomad site.
Major difference between IOMAD and Moodle?
Well, you may not find much difference between Iomad and Moodle. Because Iomad is nothing but "Moodle under the hood." However, Iomad is tailor-made to suit the learning and development (L&D) needs of businesses and corporates. Accordingly, you see the tweaks made in Moodle. The major changes are roles; In Moodle, you actually get to see the following roles:
1. Teacher
2. Student
3. Admin
Whereas in Iomad, the roles are completely different. The platform is tweaked to suit for company manager role and others in various departments in organizations. Like Moodle dashboard, you will have an Iomad dashboard. For more information, visit Iomad website.